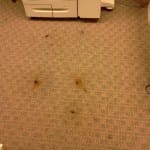 We received an emergency call from a new customer who found us on google. The company is a manufacturing plant in West Chicago. They are still in the process of having their offices completely remodeled. New paint, new carpets, new hardwood floors, everything is looking very nice. There are still construction guys around working on different areas of the project.
The Plant Manager came in that morning to find some mystery spots on the carpet in the copy room. The new carpet was installed for only one week! No one owned up to the origin of the spots. The big boss who is handling the remodel project was out of town so the Plant Manager attempted to resolve the issue on his own.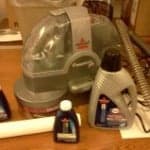 He went out and purchased a spot bot with all of the trimmings and solutions recommended. As hard as he tried, those spots just would not come out. He did manage to make the offending carpet spots worst and grow a bit though!
Time to find a professional, he still has his day job to do! He went to the interweb and found our Norms Carpet Cleaning website. There was plenty of information he read there, and he then made the decision to call us. We were able to accommodate an appointment that day and arrived in just a couple hours.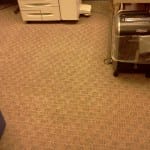 The Plant Manager showed me the issue, we talked about the spots for a bit then I got right to work. The unsightly effected areas were quickly dissolved once I identified the correct solution to eliminate them. A little more time, a little more agitation, alot more fresh water rinsing and the spots were completely gone. The carpet looked like new, well it was new… Another unnamed person who would not admit fault helped out of a jam, another happy customer, all in a days work.